Home
Talk

5
1,385pages on
this wiki
Featured Article
July 2014

- Kanajin Nakagami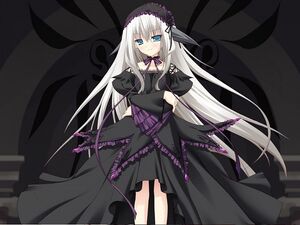 Kanajin Nakagami (天一神-花七神, Heaven's Sole Spirit is represented by Flowering Seven Spirits) is a powerful missing-nin originating from Kumogakure. Deserting her clan and village because of her boredom, Kanajin now wanders the ninja world, finding her true purpose. Overall, she is a self-centered, highly manipulative and rather antisocial young woman who doesn't care about what's right or wrong. She is also the Jinchūriki of Gyūki, the Eight-Tails. Kanajin is also known as Rockin' Lightning Kanajin (岩雷の佳七神, Ganrai no Kanajin) for her dual elements of Earth Release and Lightning Release...
Read more at Kanajin Nakagami
Quote of the Week
I'm not like the other Tailed Beasts. It takes time to earn my trust. Humans always talk about the same thing. I've been observing your actions for a long time now. So you should understand this too. No matter what you try to talk about, it means nothing to me. It doesn't speak to my heart.
- Kurama[src]