This article, Saidani Umetarō, is property of Waterkai.
Saidani Umetarō (才谷梅太郎, Saidani Umetarō), generally addressed by his followers as Sumi-sama (隅様, Master of the Corner), is the last member of the Umetarō Clan who has managed to unite most Samurai clans under his banners, marching down on the war-torn shinobi lands and profit from their weakened state.
Appearance
Edit
Personality
Edit
Synopsis
Edit
Equipment
Edit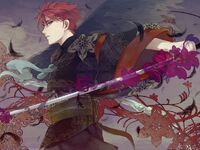 Mikazuki Munechika (三日月宗近, Crescent Moon near the Centre);
Abilities
Edit
Swordsmanship
Edit
Kōhoshi Hōgetsu (公星捧月, "all stars cup themselves around the moon")
Behind the Scenes
Edit
Ad blocker interference detected!
Wikia is a free-to-use site that makes money from advertising. We have a modified experience for viewers using ad blockers

Wikia is not accessible if you've made further modifications. Remove the custom ad blocker rule(s) and the page will load as expected.