Yukiko Yuuchi

Name
Yukiko Yuuchi
Kanji
誘致由希子

Personal Status

Gender
Female
Height
5'9"
Weight
45kg
Blood Type
O

Relationships

Affiliation
Konohagakure
Occupation
Jonin
Previous Occupation
Chunin
Team
Team Yukiko
Previous Team
Unknown
Partner
Ryūko
Previous Partner
Unknown

Ninja

Rank
Jonin

Skills
Yukiko Yuuchi (誘致由希子 Yuuchi Yukiko) is currently a powerful Jonin of Konohagakure and is famed for both her beauty and strength, which mainly stems from her active use of Genjutsu similar to the Jonin Kurenai Yuhi, who she is known to regularly compete with. Currently the leader of Team Yukiko and the sensei to Ryūko, Tenshin Jouseki and Miya Kagami. Formerly a member of the ANBU, she still retains her ties with them, and as such sometimes leaves her team under Genzou Yuuchi, her younger brother, who is also a Jonin.
Personality
Edit
Appearance
Edit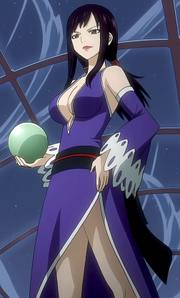 Powers and Abilities
Edit
Behind the Scenes
Edit
Ad blocker interference detected!
Wikia is a free-to-use site that makes money from advertising. We have a modified experience for viewers using ad blockers

Wikia is not accessible if you've made further modifications. Remove the custom ad blocker rule(s) and the page will load as expected.